Pronovias - Service Audit
For this project the goal was to assess a current company's service offering and intervene it by creating radical innovation in it's services. Pronovias is a bridal gown company, and after a negative personal experience with the brand I saw an opportunity to improve their services.
Pronovias is the leading company in the world in the bridal gown sector. It was this company that pioneered the concept of Bride-à-porter wedding gowns, and 50 years later they still lead the category. In 2014 they had a revenue of almost 200 million euros. They currently have 163 owned stores in 105 countries and more than 4000 sales points .
By 2020 they plan on doubling those numbers. As part of their expansion strategy, which started in 2013, Pronovias has expressed that they have shifted from a product-centered vision, to a brand-centered one, and from having a sales-centered operation to becoming service-centered. This means, the bride is put first, and making her the main protagonist.
SERVICE ANALYSIS
By conducting secondary and primary research we analyzed Pronovias' service offering. Secondary research consisted on: service reviews found online, analyzing information about Pronovias' competitors (Rosa Clará, Jesús Peiró, Vera Wang, Carolina Herrera, Oscar de la Renta, Marchesa) understanding their business and service strategy and doing a popular media search to understand how customers perceived these brands.
Primary research included: interviews with previous Pronovias' customers, field visits to different bridal shops for observation, interviews with bridal shop employees and questionnaires for women who had purchased a wedding gown in the last three years. After going through all the research we affinitized all our findings, and categorized them into different subjects and themes
CONCEPT IDEATION
Based on the insights gathered from primary and secondary research, four solutions were proposed, each focusing in an area of the service that needed improvement.
Solution #1: Communication: This solution focuses on communication during the different stages of the service delivery and it's integration with the Pronovias website and app, using the "My Dressing Room" tool. This method will also be used for them to track the stage in which their dress order is at, so that they can be sure of when the dress is ready and delivered at the store.
Solution #2: Details and Integration: In this solution we ensure that there is integration between the activities that the bride did before accessing the service (using the app) and the first encounter at the store. Making sure that the products that she chose in the app will be shown to her first, and will be waiting for her inside the dressing room as soon as the appointment starts. We also focused on providing details that made the experience more memorable: addressing the people that share the bride's experience, as they also play an important role in this process; supporting the bride during her wedding day and congratulating her a few weeks after the big day.
Solution #3: Marketing Efforts: This solution is focused on marketing efforts, particularly on things that can be done on social media, their blog, website or in collaboration with bridal publications, sharing their brand culture, tradition, and quality efforts with the world.
Solution #4: Employee Training: Employee training is one of the most important solutions to many of the customer satisfaction issues found in the service delivery. Our research revealed that customers feel judged and mistreated by some of the company's sales associates when they visit the store. Some of the options for this solution include training sessions in which employees participate in role playing activities where different situations are presented.
CONCEPT EVALUATION:
To evaluate the concepts we developed after analyzing the opportunities found through research affinitizing, we developed a matrix which evaluated each concept based on different values both for the user or employee and the company.
CONCEPT PROTOTYPING
To prototype our solutions we decided that the ones that were based on the end-user's journey and their in-store experience would be the ones we would have best results within a prototyping session.
We first developed a storyline with multiple outcomes depending on the decisions each user made during the session. This decision tree helped us see and be prepared for each possible scenario that could happen during the session.
Using paper dolls, paper dresses and cards that explained actions or asked questions, we devised a more contextual environment of the in-store experience. To do this we built a stage with pictures of an actual Pronovias' dressing room, to show users the kind of store they would be in. This raised their standards of what to expect from the service, and we observed that they were much more interested, engaged, and at the same time, demanding of the quality of the service they were receiving.
We also provided more visual aids and props to help guide the process. One of the gaps we found in this part was on the time between the user's first appointment, and when she decides to purchase a wedding dress. Most users wanted to visit other stores to compare and make their final choice, we had not contemplated this and found it as another opportunity to innovate and retain customers.
IMPACT ASSESSMENT
After prototyping we assessed the impact our solutions would have in the business model, service package, the customer's journey and the service in general. By going back to the the service design tools we used to analyze the initial service offering, we were able to see if the proposed solutions would have an impact in the pain points that had been identified. We also developed an implementation plan, where we outlined implementation priorities.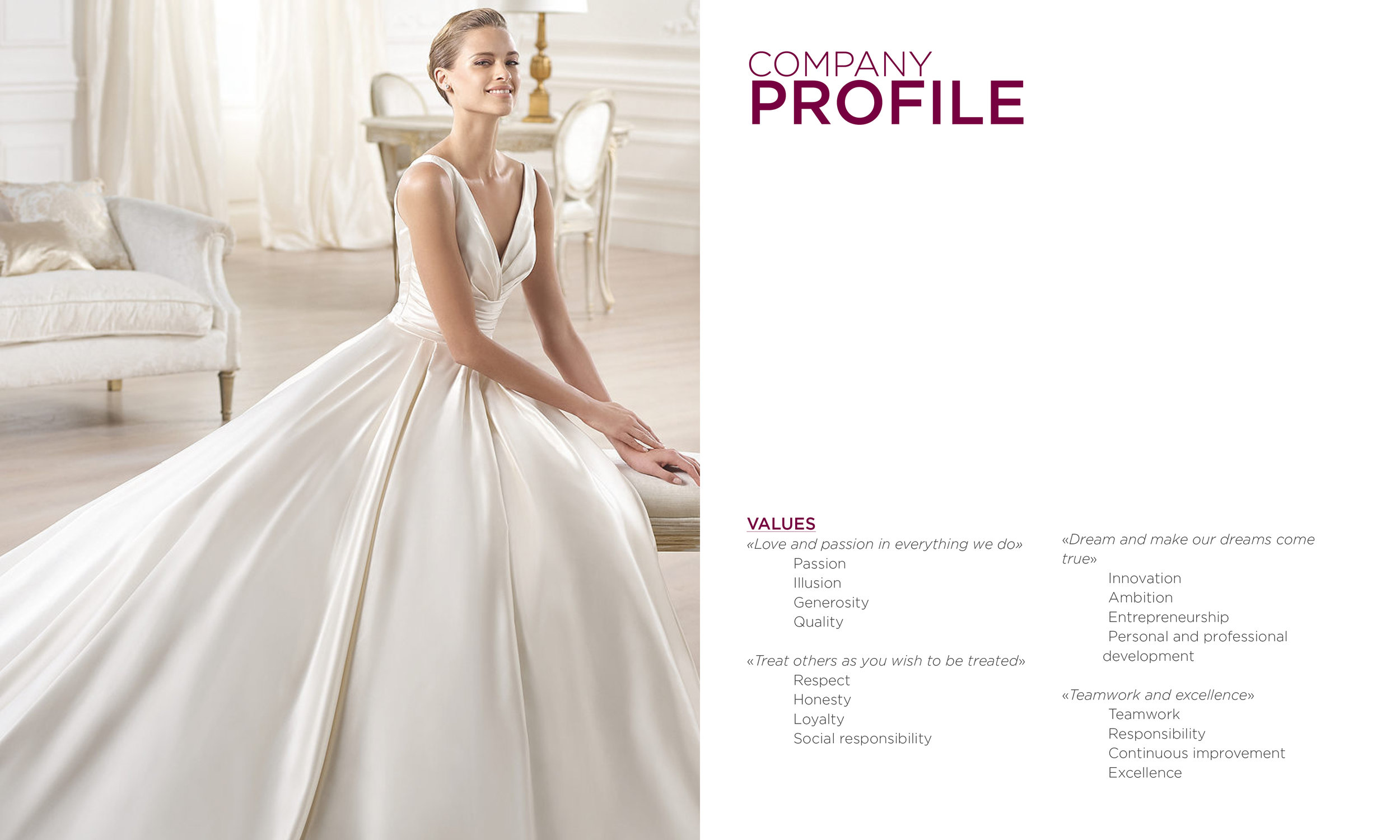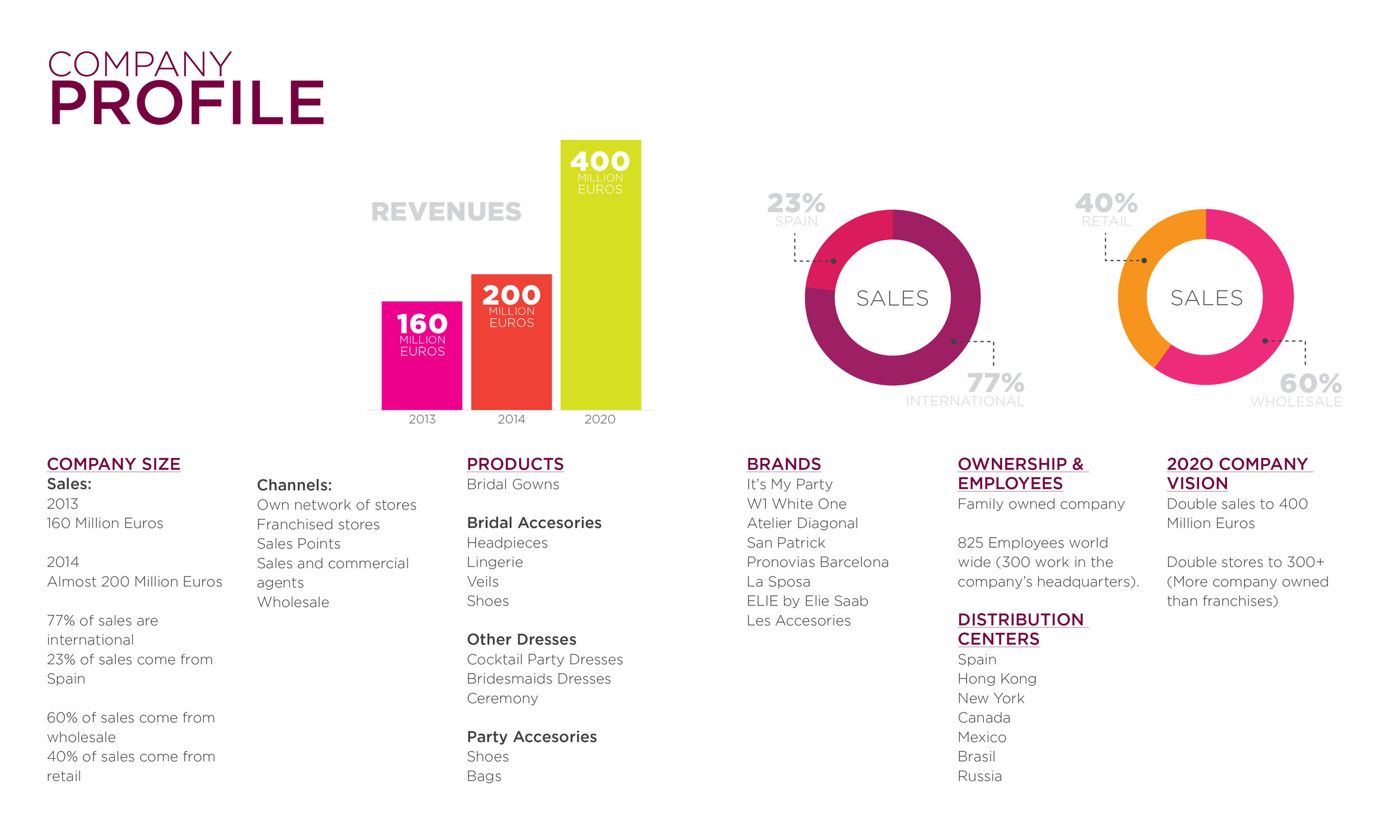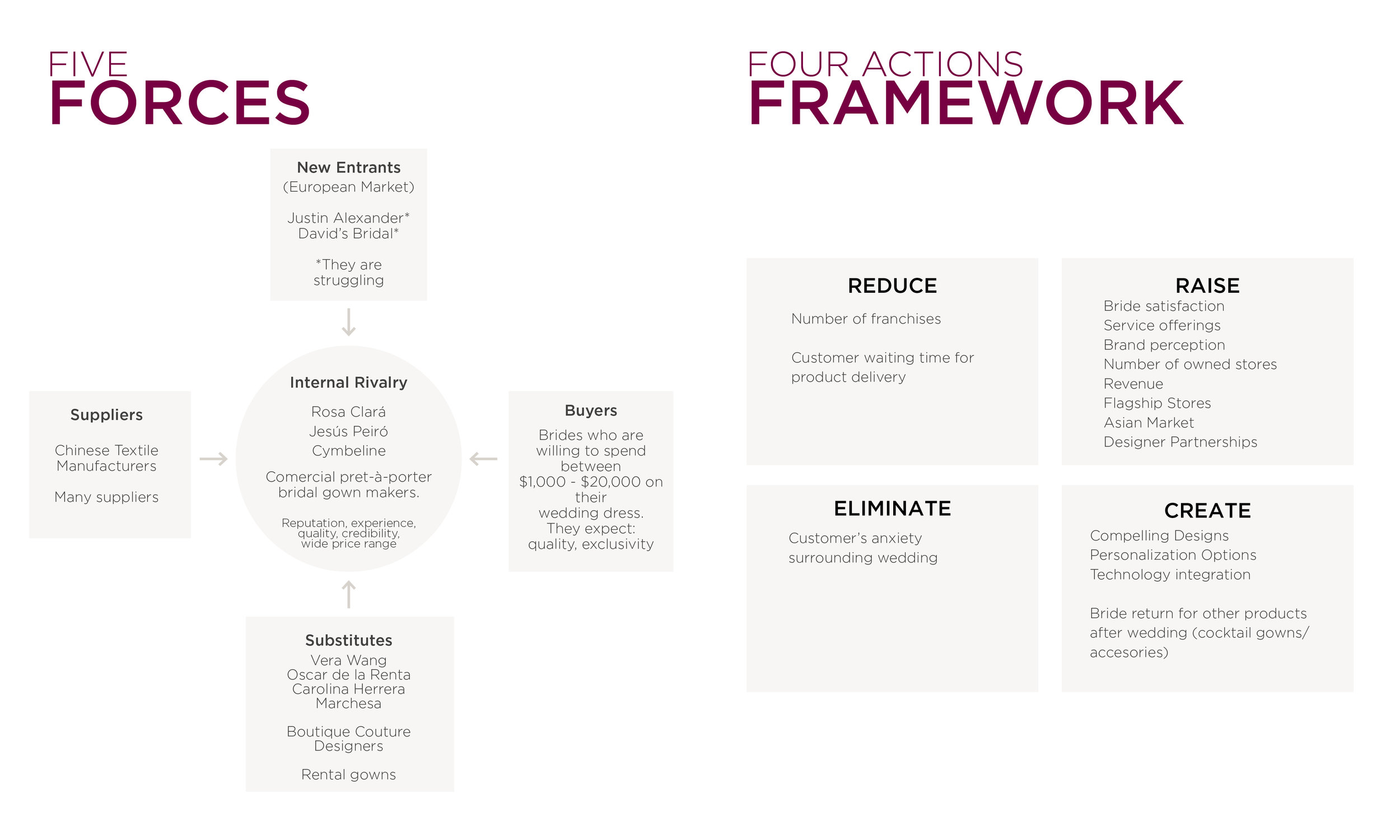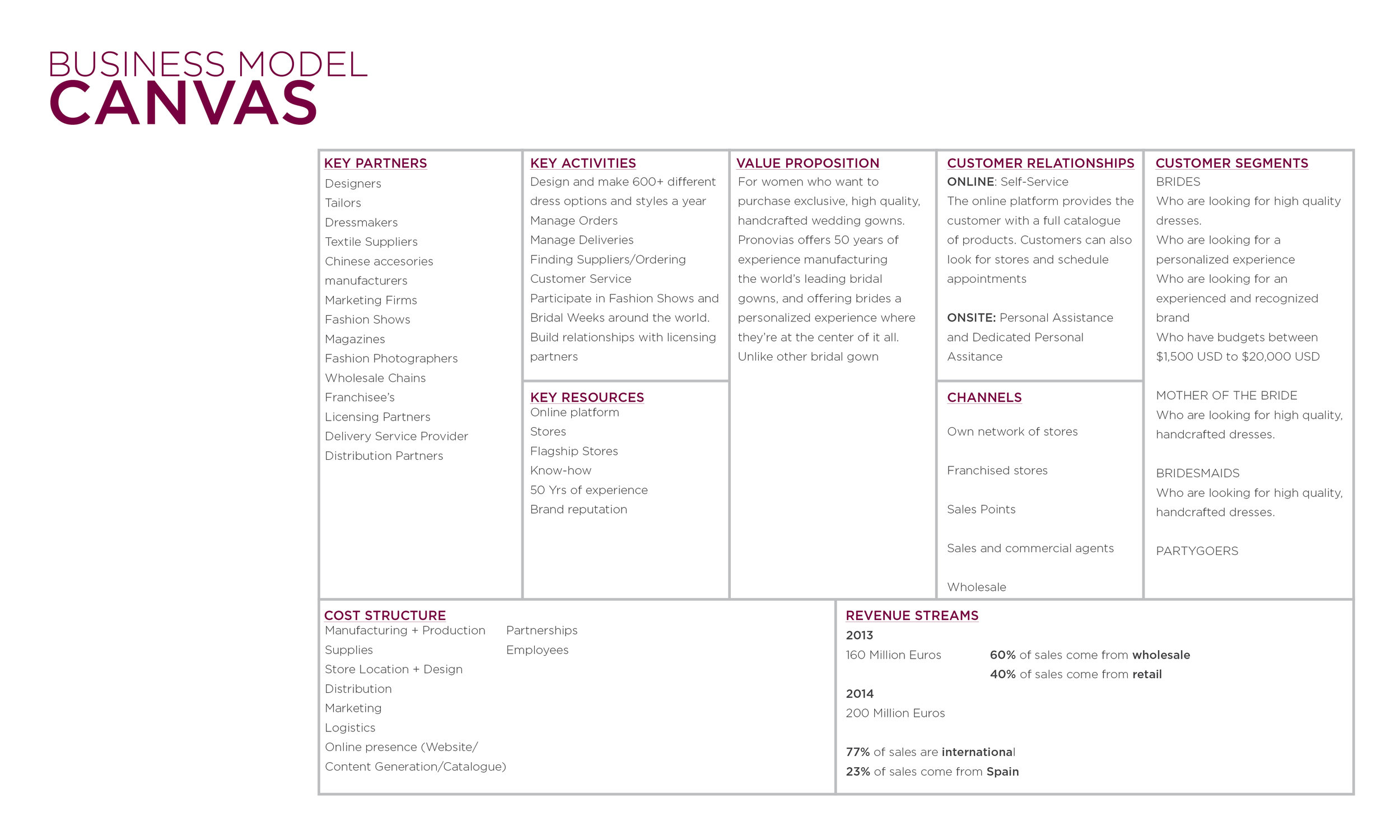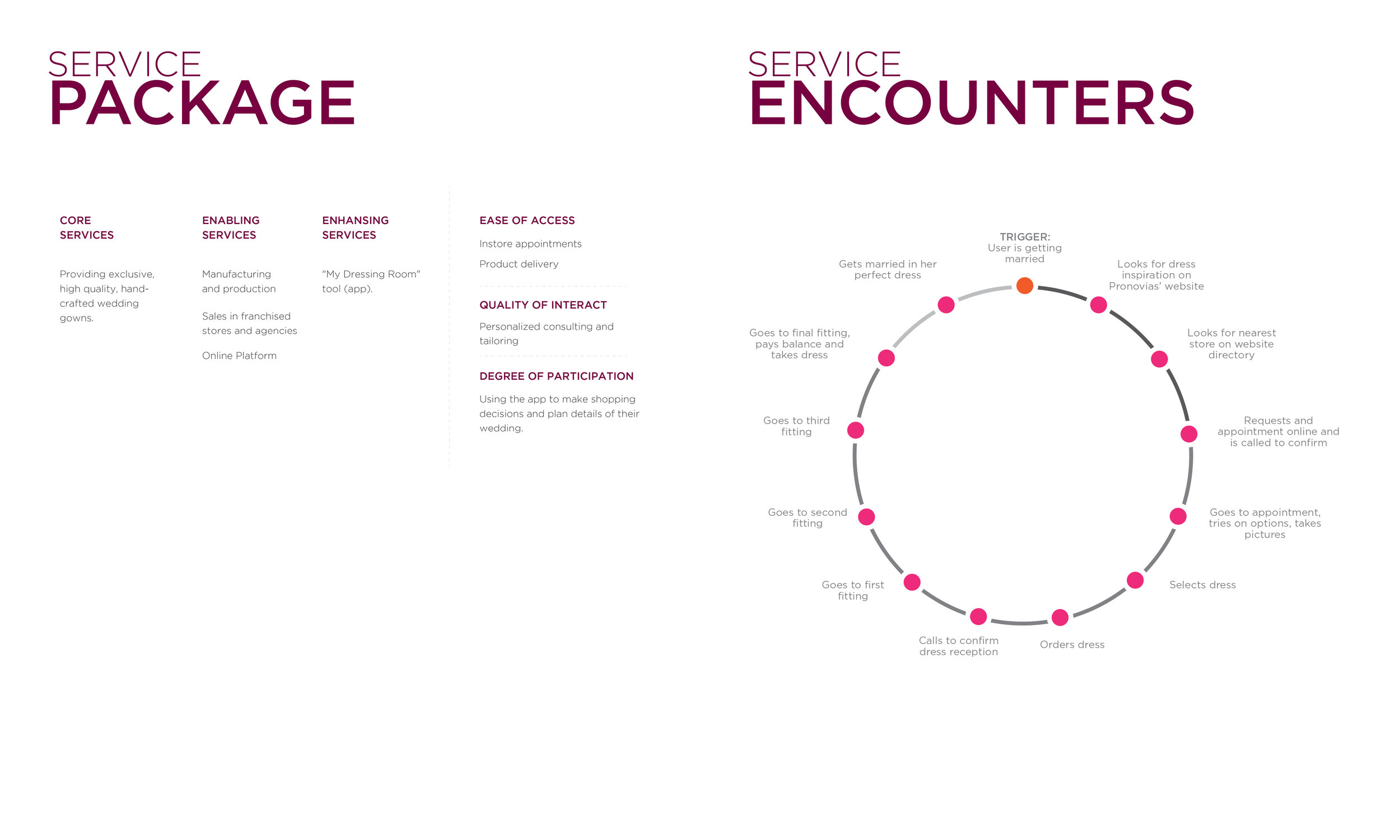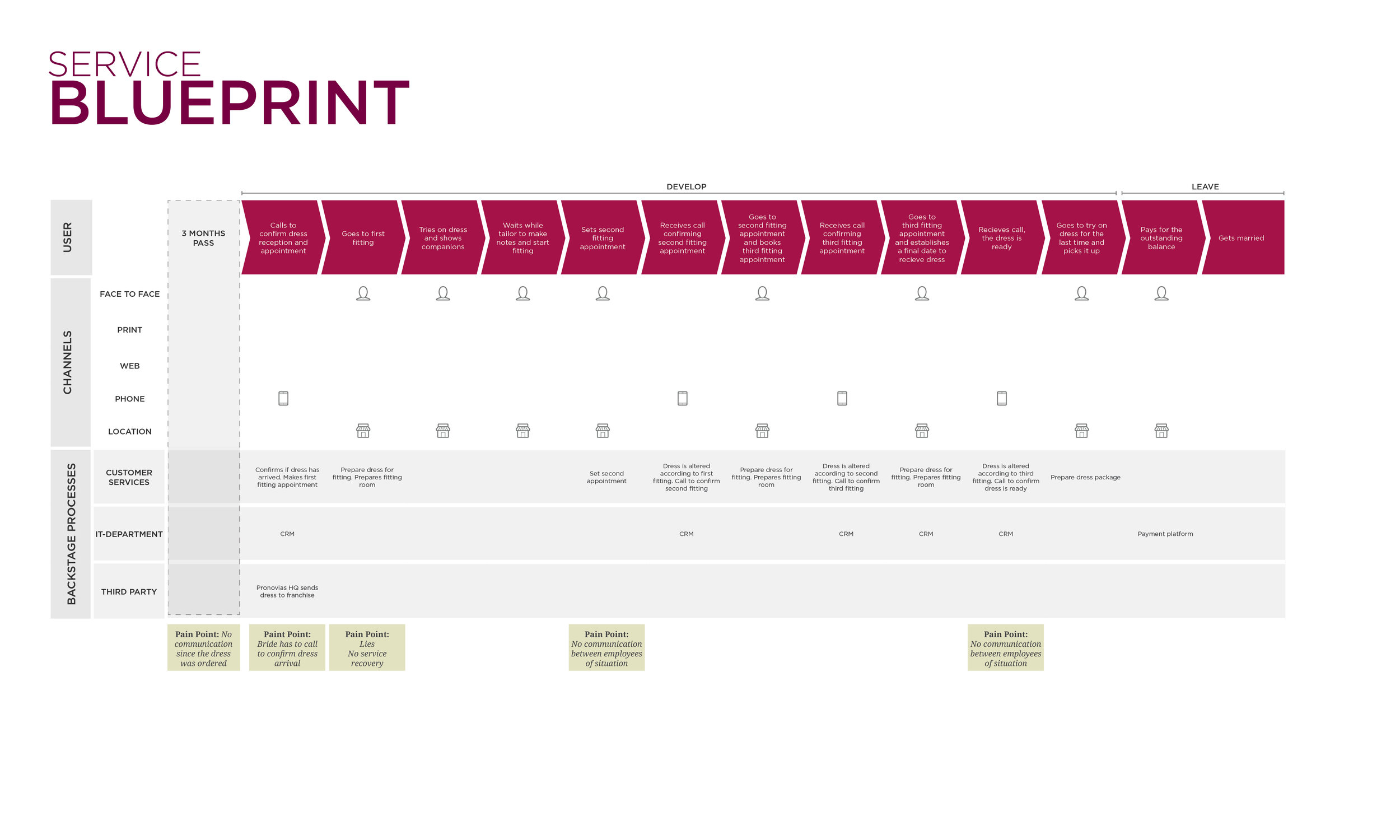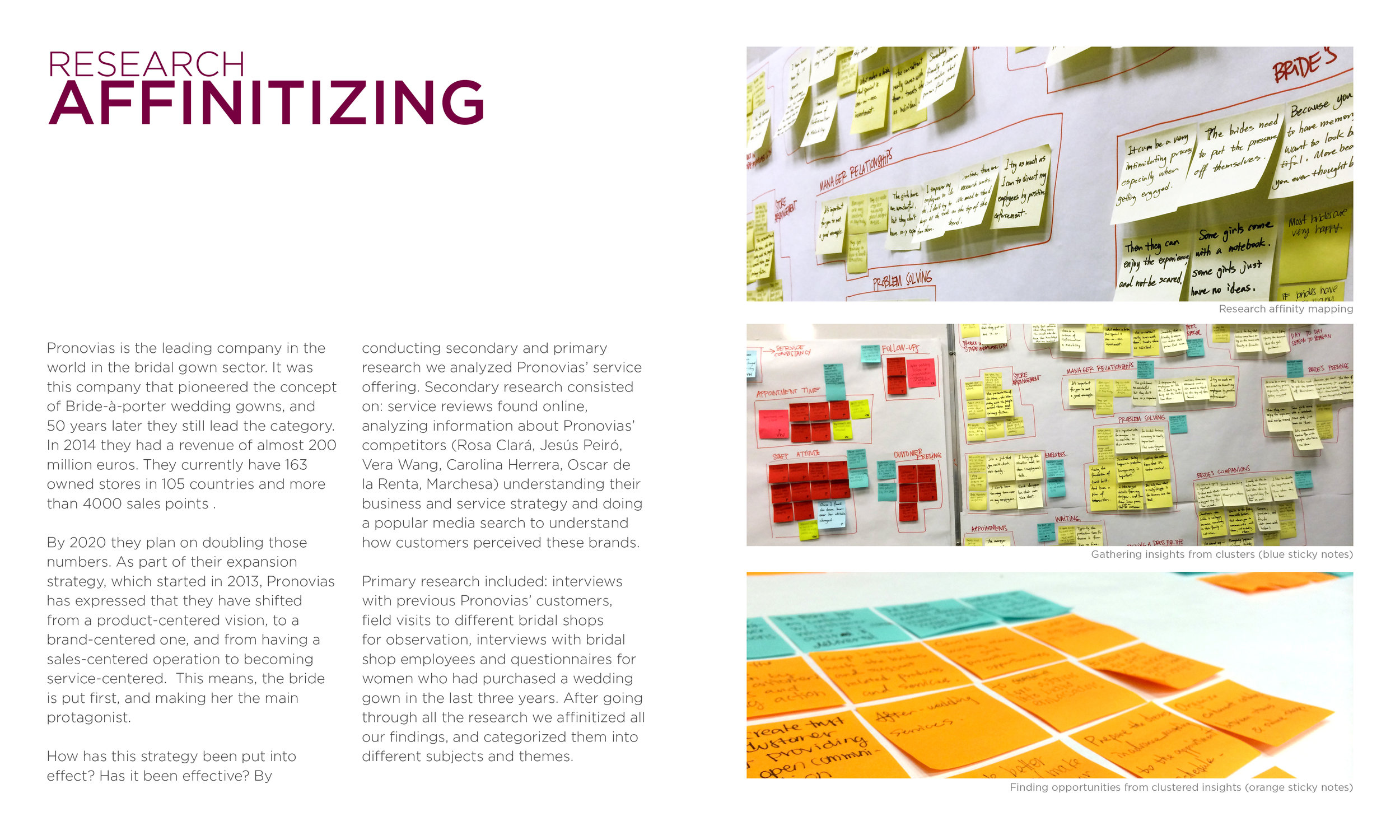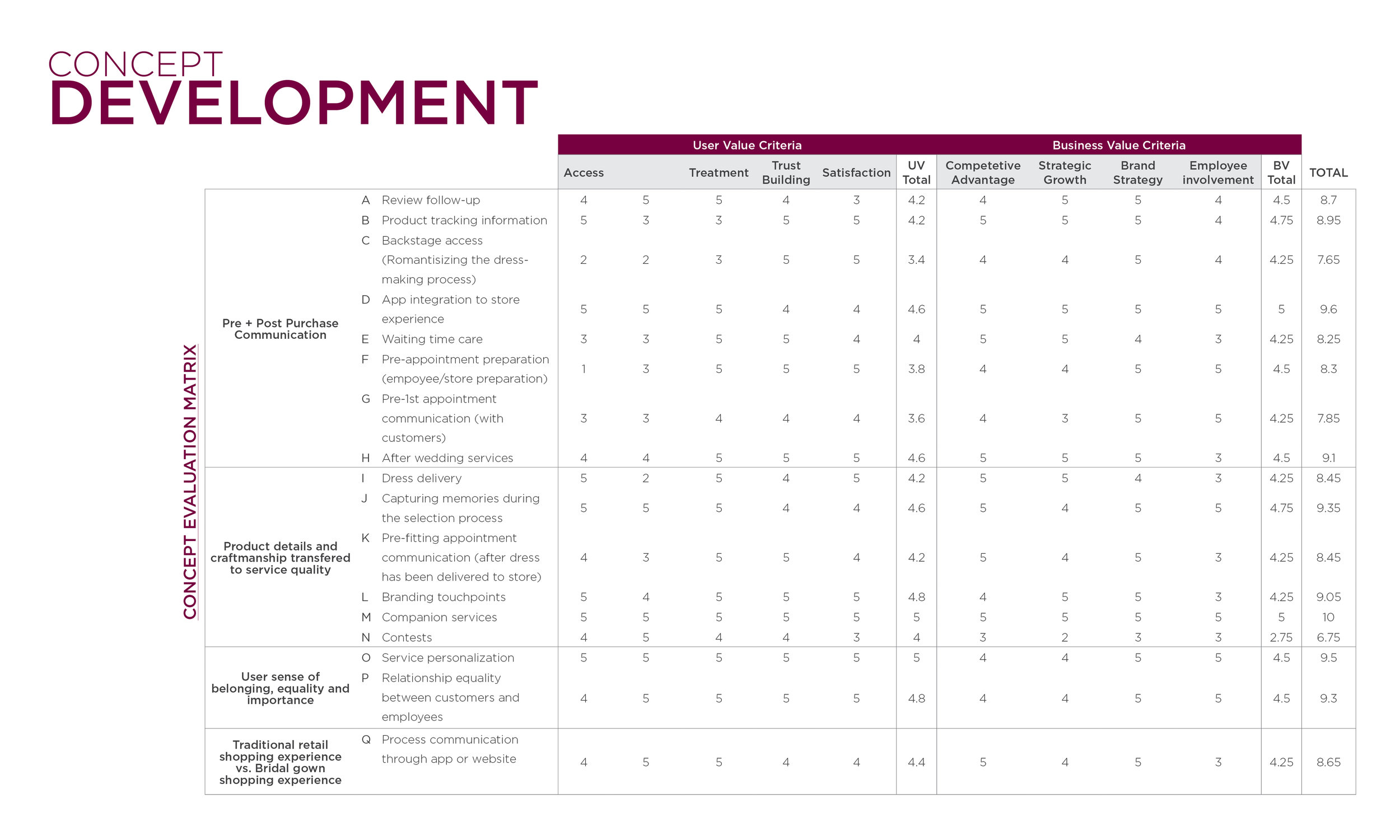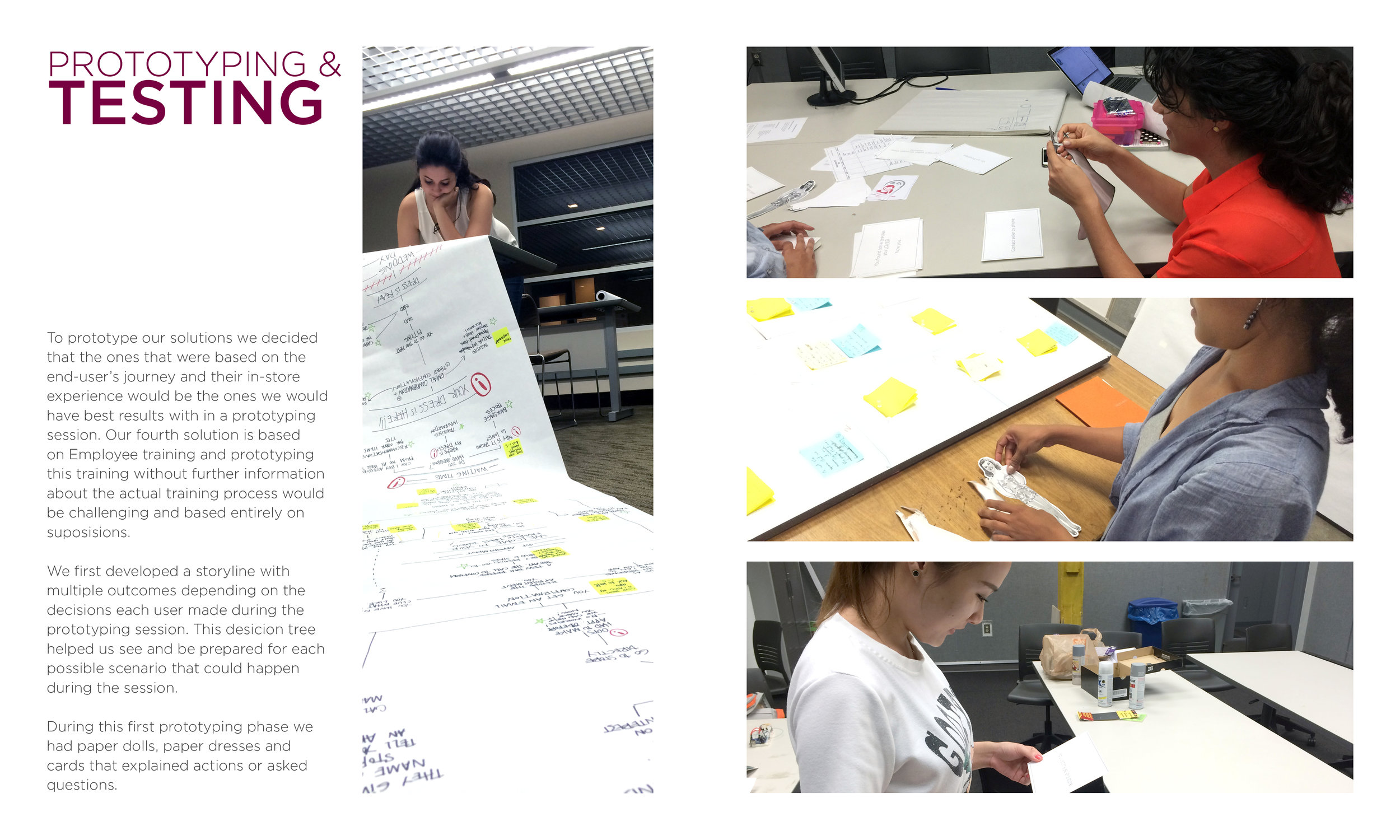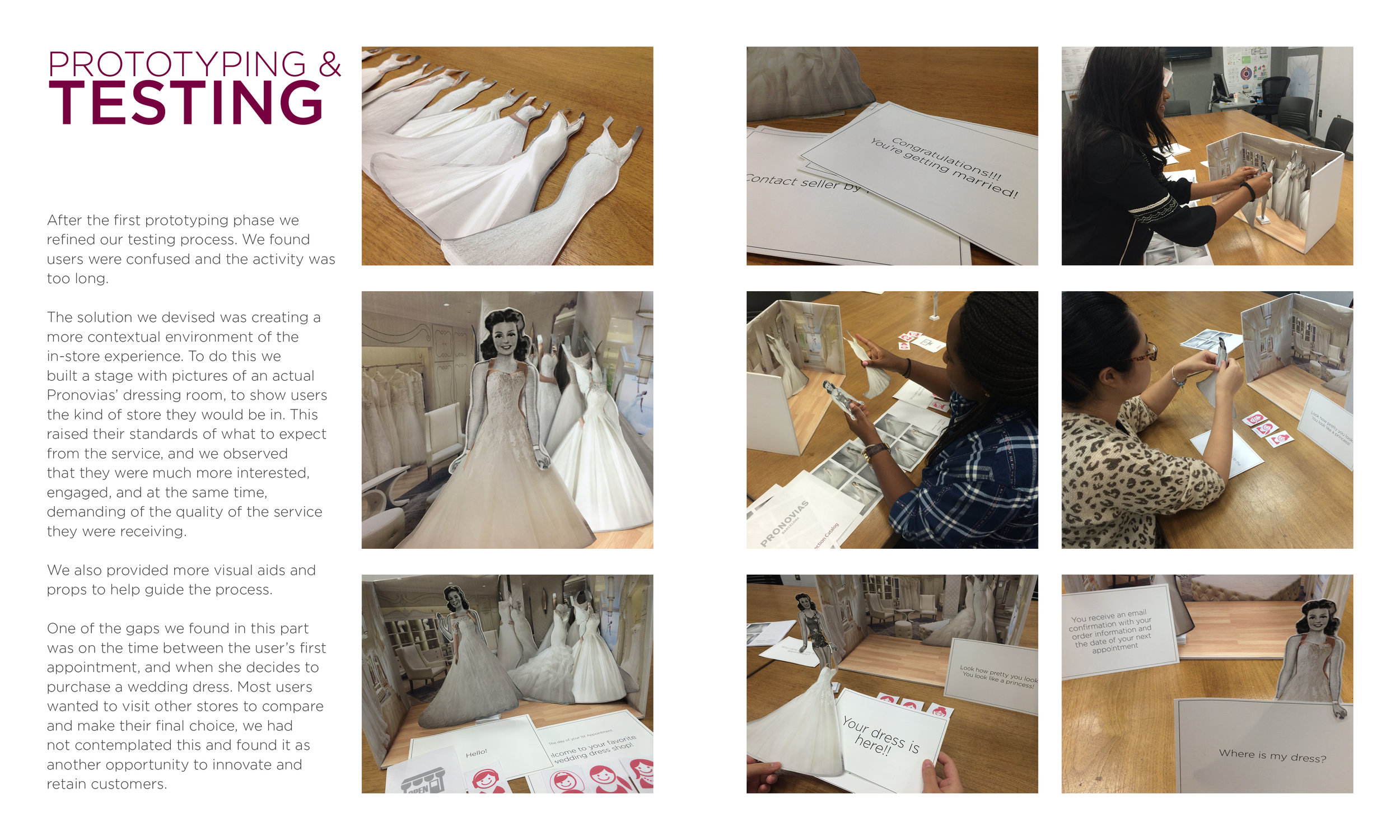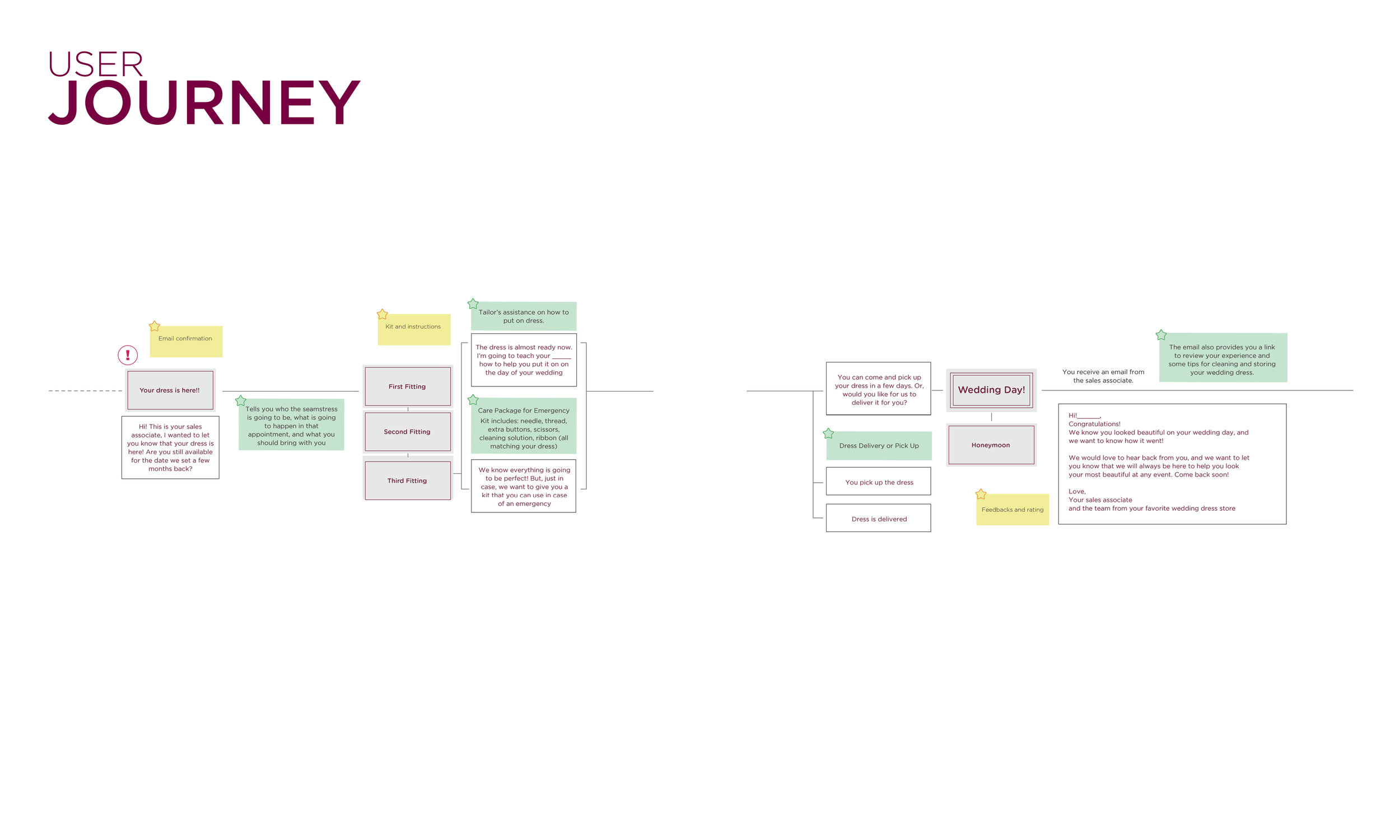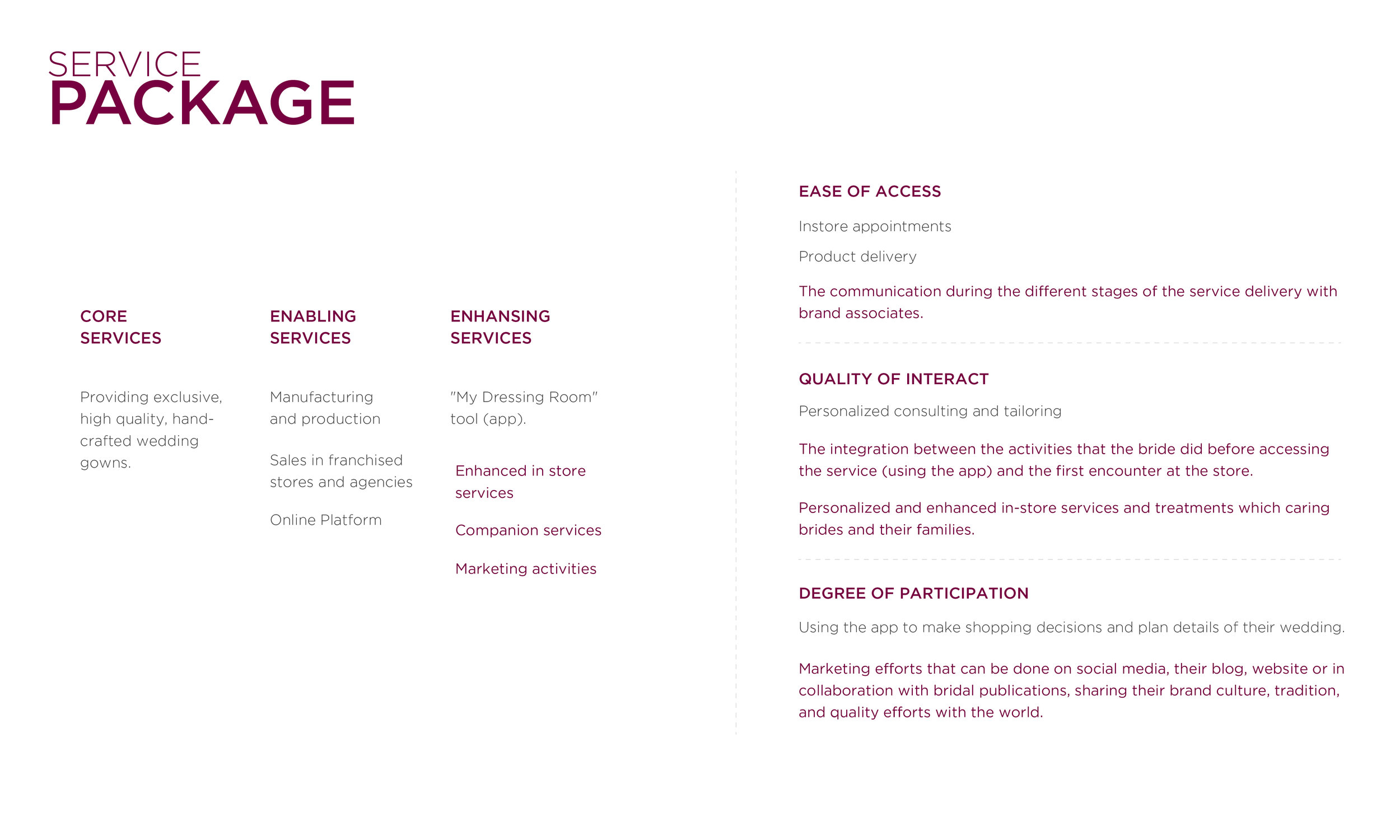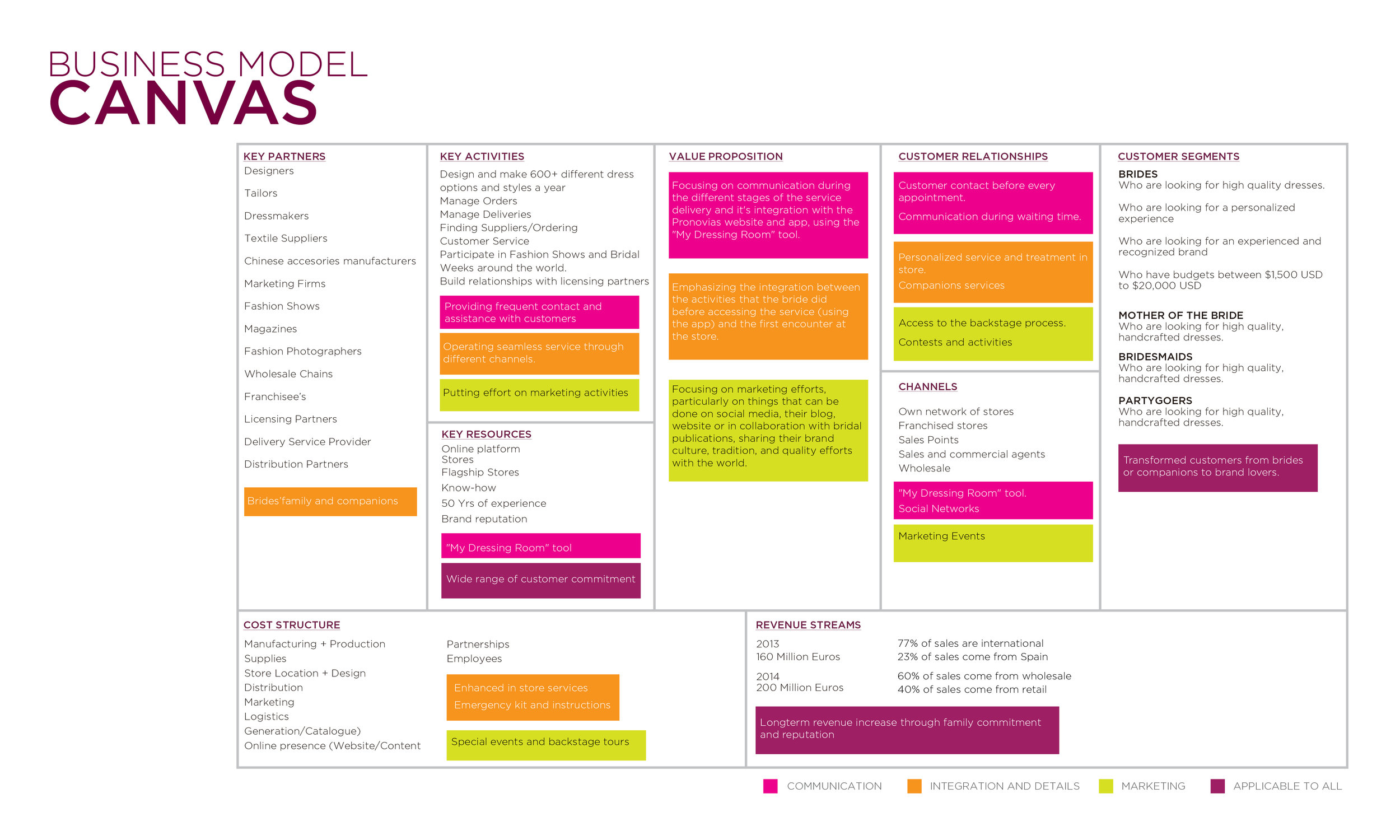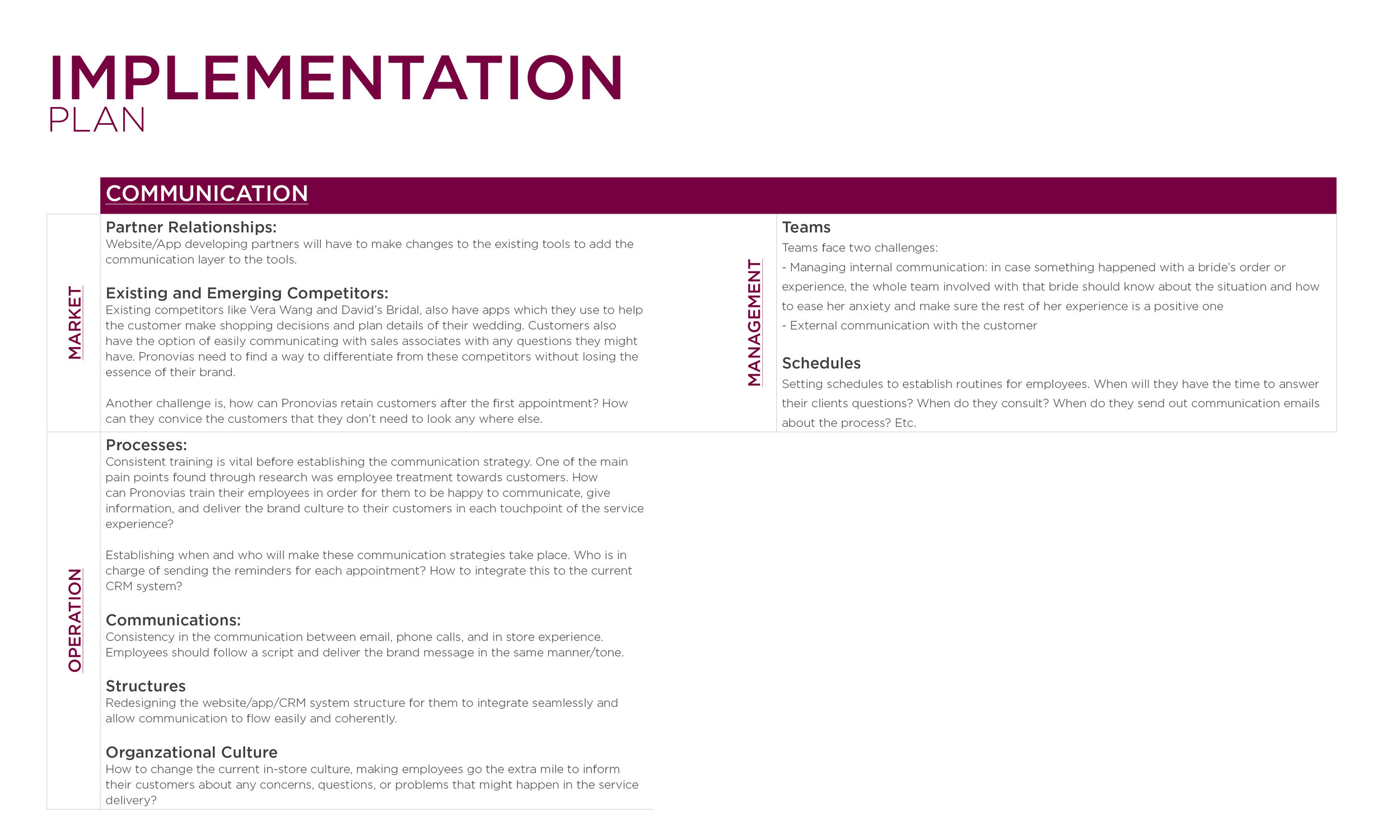 This project was done in collaboration with Yuanhao Lu.